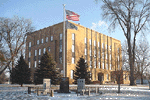 Davison County Commission
200 E 4th Ave
Mitchell, SD 57301
Phone: (605) 995-8608
Fax: (605) 995-8618
---
To Schedule an Appearance before the Board of Commission, please contact the Auditor's office at the above contact information as given.
2022 Davison County Redistricting Ordinance
Current Commission Agenda
AGENDA
September 22, 2023
Commissioners:
The following is the agenda for the Commissioner meeting to be held on Tuesday, September 26, 2023, in the Davison County Commissioner's Room in the North Offices Building, 1420 North Main Street. Special accommodations for handicapped persons may be made by contacting the Davison County Auditor's Office at 995-8608.
9:00 A.M. Call to Order
Pledge of Allegiance
Approve Agenda
Approve Minutes
Citizens Input and Board Reports
Informational Only
9:15 A.M. Adopt 2024 Budget
9:30 A.M. Highway Superintendent Weinberg
Re: 5 Year Plan
9:45 A.M. Oakley Perry SDSU Extension 4-H County Operations and Professional Development Program Manager
Re: Davison County 4-H Program Discussion
10:15 A.M. HR Director Meaney
Re: New Hires; Safety Manual; Payroll Update
10:45 A.M. Miscellaneous Motions Brought to the Board
Sign Fairground Rental Agreement
Approve Bills
10:50 A.M. Executive Session requested by HR Director Meaney
Re: Personnel pursuant to SDCL 1-25-2
Susan Kiepke
Davison County Auditor
---
Previous Agendas
September-12-2023 no meeting
July-4-2023 no meeting
June-20-2023 no meeting
May-30-2023 no meeting
May-16-2023 no meeting
April-11-2023 no meeting
March-28-2023 no meeting
Feb-21-2023 no meeting
Jan-31-2023 no meeting
Jan-24-2023 no meeting
Dec-20-2022 no meeting
Nov-29-2022 no meeting
Nov-15-2022 no meeting
Nov-1-2022 no meeting
Sept-13-2022 no meeting
Aug-16-2022 no meeting
July-5-2022 no meeting
May-31-2022 no meeting
May-17-2022 no meeting
May-3-2022 no meeting
Mar-15-2022 no meeting
Jan-25-2022 no meeting
Dec-7-2021 no meeting
Nov-23-2021 no meeting
Oct-19-2021 no meeting
Sep-14-2021 no meeting
Aug-24-2021 no meeting
June-29-2021 no meeting
Apr-20-2021 no meeting
Minutes of Davison County Commission Board Meetings
September-12-2023 no meeting
July-4-2023 no meeting
June-20-2023 no meeting
May-30-2023 no meeting
May-16-2023 no meeting
January-31-2023 no meeting
January-24-2023 no meeting
January-3-2023 Meeting Postponed
December-20-2022 no meeting
September-13-2022 no meeting
July-5-2022 no meeting
May-31-2022 no meeting
May-17-2022 no meeting
May-3-2022 no meeting
March-15-2022 no meeting
December-7-2021 no meeting
September-14-2021 no meeting
August-24-2021 no meeting
Jun-29-2021 no meeting
Jun-15-2021 no meeting
Apr-20-2021 no meeting
Mar-23-2021 no meeting
Mar-9-2021 no meeting
Feb-16-2021 no meeting
Contact Us

Davison County
200 E 4th Ave
Mitchell, SD 57301
Telephone: (605) 995-8608
Fax: (605) 995-8618