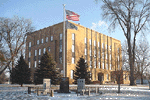 Treasurer

 

David Beintema

Email: [email protected]
Phone: (605) 995-8617
Fax: (605) 990-8618

Appointed in 2018, Elected in 2020

Mailing Address:
Davison County Courthouse
200 East 4th Ave.
Mitchell, SD 57301
Deputies: 
Tonya Ford –  [email protected]
Kim Beltran – [email protected]
Office: (605) 995-8617
Fax: (605) 990-8618
Office Location: Davison County Courthouse, 1st Floor
Office Hours: 8-5pm Monday – Friday (excluding holidays)
David Beintema
David was appointed to Davison County Treasurer in October 2018. He has an Associates Degree from Western Dakota Tech and a Bachelor's Degree from Chadron State College. He had served the City of Mitchell for 15 years and the State of South Dakota for 3 years. He retired from the South Dakota Army National Guard with 21 years of service. David serves on various county committees and is a member of the SDACO. He is a lifetime member of the American Legion, VFW, and DAV. 
South Dakota Motor Vehicle License renewal schedule:
All Vehicles: Titles, Fees and Registration Information
Registration on commercial, non-commercial, trailers, motorcycles, snowmobiles, and boats are done on a staggered licensing system based on the first letter of the owner's last name or in the case of a business on the beginning letter of the business' name. We accept cash, check or credit card/debit card (service fees apply).  A driver's license, Social Security Number, or FEIN is REQUIRED for at least ONE owner of vehicle to renew. The registration renewal reminder card that is mailed from the state is also acceptable but not required.
Licenses are renewable up to 90 days before assigned month (in person or by mail).
A Self Service Terminal Kiosk is located at County Fair of Mitchell. There are other locations around the state that available. Click on here for more information. – (IF NOT EXPIRED More than 90 Days) You can also renew online at SDCARS.
South Dakota License renewal schedule:
 January

 

A / B
 February

 

C / D / E
 March

 

F / G / J
 May

 

H / I / O
 

June

 

K / L
 July

 

M / N
 August

 

P / Q / R
 

September

 

S
 November

 

T / U / V / W / X / Y / Z
Motor Vehicle/Boat Title
When titling/registering a vehicle you have recently purchased, please bring the SD drivers license number or social security number of all individuals to be placed on the title.
If you paid tax in another state you will need an

Out-of-State Dealer Assessment Form

signed by the dealer to verify the taxes were paid or you will be required to pay 4% SD excise tax on vehicles or 3% on boats.
If you are moving from another state we will also need your Out of State Drivers License and Social Security Card.
Request for out of state titles held by a lender need to be made by the Treasurers Office. The request will need the lender name, account number, fax number and vehicle information (year, make, model, and VIN).
For more information visit South Dakota Department of Revenue at SD DOR.
You can find Motor Vehicle Forms at Motor Vehicle Forms.
---
Property Tax Information
The first half of property taxes are due April 30, and the second half are due October 31 of each year. Please bring your tax notices with you.
There is a .833% monthly penalty for delinquent taxes.
Those wishing to pay by credit card may do so by visiting the online property tax payments link below. Credit card service fees apply.
Tax payments may be mailed to the Treasurer's Office at 200 East 4th Ave., Mitchell, SD 57301 and MUST be postmarked by April 30 or October 31, respectively. Please send your tax stubs to ensure proper credit to the correct parcels of land. Receipts will be mailed if the tax payment is accompanied by a stamped envelope.
Assessment Freeze for the Elderly and Disabled
Applications

are available around the end of January each year and the application deadline is April 1 of each year.
Applications will be made available in the Treasurer's Office and mailed only upon request.
Applications and eligibility requirements can also be found at

SD DOR.
Search Property Tax Values in Davison County
You can access the direct link to the database@ Davison County Property Tax Database
Select Create Find
Enter Name, Parcel ex. 00000-00000-00000, or Property Address
Select Display Results
Online Property Tax Payments
ESCROW COMPANIES~ Call us at 605-995-8617 for rates to get the file directly downloaded to you.
---
Passport Information
Walk-ins are taken Monday – Friday, 8:00 AM-4:00 PM
Applications must be completed with BLACK INK ONLY
Do NOT sign the application until you come into the office
Do NOT use white out for mistakes. Use one line to strike out the mistake
Parents names should be listed as printed on birth certificate
For more information please call the office or visit

US Department of State
When applying for a Passport Please bring:
Certified Copy of birth certificate (Can be obtained at the Register of Deeds Office)
Passport picture (

Can be taken at the Treasurers Office

)
Valid Drivers license
Personal Checks
For current passport fee information please visit Travel.State.Gov at the following link: Passport fees
Photo can also be acquired at:
United State Post Office Mitchell SD
---
Davison County Online Payments
Auditor Misc Fees
Confinement Fees
County Poor Lien Fees
Court Appointed Attorney Fees
Juvenile Detention Fees
Treasurer Misc Fees

*Traffic tickets and court fees are NOT paid through the Treasurers Office. Payments must be made through the Davison County Clerk of Courts.