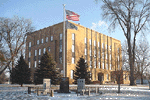 For information on where you can vote, view your voter registration information, view a sample ballot, or track your absentee ballot application use the "Voter Information Portal" from the South Dakota Secretary of State. Then enter your name and date of birth to access the page. 
If you would like to vote by mail, watch this video:
Auditor

Susan Kiepke, Auditor

Email: [email protected]
Phone: (605) 995-8608
Fax: (605) 995-8618

Elected in 2006

Location:
Davison County Court House 1st Floor
200 East 4th Ave.
Mitchell, SD 57301
Susan Kiepke, Auditor
Experience:
2007 to Present – Certified Auditor (South Dakota Association of County Officials)
1987 – 1996 Deputy Auditor for Davison County
Education:
Attended Northern State College
Professional Organizations:
President of the South Dakota Association of County Officials
South Dakota Association of County Officials Executive Board Member
South Dakota Association of County Officials served on the Continuing Education Committee, Bylaws Committee, the Resolution's Committee, and the Public Relations Committee
Chairperson of Chamber Governmental Affairs Committee
Chamber Ambassador
Southeast Central District of County Officials (Secretary)
National Association of County Recorders & Election Officials & Clerks
Other Organizations:
Rotary (Secretary/Treasurer)
Mitchell Area Charity Foundation (Board Member)
St. Mary's Episcopal Church Vestry (Board Member)
Lifequest Board Secretary
Lifequest Foundation Board Member
Duties of Auditor
Responsible, and accountable, for the efficient coordination of human, physical and budgetary resources in the effective accomplishment of all department duties and responsibilities as prescribed by Code or as assumed by past practice and established tradition; including acting as official secretary to the County Commissioners; coordinating the verification, preparation, and payment of all claims against the County, and the maintenance of all records related thereto; maintaining County owned property and their real estate records, the coordination and preparation of the County master budget as developed from all taxing districts in the County, the direction, development, implementation and coordination of all data processing reports, needs and functions in the County, the coordination and directions of all voter registration and election procedures in the County; and the carrying out of various other duties and functions related to scope of responsibility, including special projects and the supervision of all subordinate staff and operations relating to described areas of responsibility.
---
Qualifications for the Office of County Auditor
Knowledge of public administration;
Knowledge of general accounting principles and procedures;
Knowledge of basic data processing principles and methods;
Knowledge of South Dakota Code relative to scope of responsibilities, including Election law, property and real estate law, budgetary, accounting and payroll requirements, election and voter registration requirements and regulations' ability to supervise, motivate, train and instruct others; ability to tactfully and effectively communicate with others, either orally or in writing;
Knowledge of general office methods and procedures.
Important Links:
The most recent Audit can be found @ Davison County Audit Report 2020 2019
To see current and previous County Levies, click on: 
Davison County 2022 Levies Payable in 2023
Davison County 2021 Levies Payable in 2022
Davison County 2020 Levies Payable in 2021
Davison County 2019 Levies Payable in 2020
Davison County 2018 Levies Payable in 2019
Davison County 2017 Levies Payable in 2018
Davison County 2016 Levies Payable in 2017
To access voting registration information, click on Register to Vote Information.
---
Contact Info

Davison County
200 East Fourth Ave.
Mitchell, SD 57301