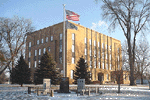 MISSION-The Davison County Office of Emergency Management's mission is to protect lives, property, and the environment through direction and coordination of state and local government; through the Preparation, Mitigation, Response, and Recovery from damages sustained by emergency or disaster events.
Emergency Management

Jeff Bathke

Email: [email protected]

Phone: (605) 995-8640 or (605) 995-8615

Mailing Address:

Davison County Courthouse

200 EAST 4TH AVE.

MITCHELL, SD 57301
Jeff Bathke has served as the Davison County Emergency Management Director since October, 2013. Jeff is a graduate of Plankinton High School and the University of South Dakota. He holds a Bachelor of Science Degree in Psychology and a Master of Science Degree in Administration, with an emphasis in Organizational Leadership. Jeff's past experience includes 17 years working in counseling programs, Department of Corrections facilities, and Private Research. Jeff is also a licensed counselor in the state of South Dakota.
Current & Upcoming Events:​​​​​​​​​​​​
September 1, 2023                        Mitchell Siren Testing @ 10:00 A.M.
September 2, 2023                        Mt. Vernon and Ethan Siren Testing @ 10:00 A.M.
September 10, 2023                      Search & Rescue Meeting @ 6:30 P.M.
September 13, 2023                      LEPC Meeting @ 10:30 A.M.-

CANCELLED

October 1, 2023                            Search & Rescue Meeting @ 6:30 P.M.
October 6, 2023                            Mitchell Siren Testing @ 10:00 A.M.
October 7, 2023                            Mt. Vernon and Ethan Siren Testing @ 10:00 A.M.
October 11, 2023                          LEPC Meeting @ 10:30 A.M.
PURPOSE:
The Davison County Office of Emergency Management involves principles and concepts, such as organization and planning applied to emergency and disaster situations. These include the four phases of Emergency Management:
Mitigation-The reduction or lessening of the effects of emergencies and disasters.
Preparedness-Getting ready for those events that may happen.
Response-Effectively responding to those events as a jurisdiction.
Recovery-Repairing and replacing damages to pre-incident conditions.

BURN BAN INFORMATION: There is currently NO burn ban in Davison County. To see how this is determined, click on the below links:
Burn Ban Summary 21 NOV 22
Burn Ban Point System-21 NOV 22

When a ban is enacted, the following would apply:
Davison County will impose a ban to prohibit or restrict open burning and that the use of all fireworks, except for fire department approved private or public displays complete with fire suppression standby services, be prohibited in order to protect the public health and safety pursuant the Regulation of Open Burning During Fire Danger Emergencies Ordinance.
"Open burning" shall be defined as any outdoor fire, including but not limited to campfires, warning fires, charcoal grill fires, or the prescribed burning of fence rows, fields, wild lands, trash and debris. This resolution excludes fires contained within liquid-fueled or gas fueled stoves, fireplaces within all buildings, charcoal grill fires at private residences, and fire pits or fire grates located at private residences or on supervised developed picnic grounds and campgrounds.
If you need to burn a garbage barrel, or other items, please contact the Emergency Managment Office for a decision. You will need to have a fire protection plan with your request.
Learn more about Coronavirus, click Here
Flood Damage to residence or business? Click Here
Disaster Process for County, City, and Townships Officials, click Here

2019 Flood Damage Presentation @ EM Presentation-12-5-19
You can also monitor the flood gages in the area. For three miles south of Mitchell, click here.
For fifteen miles north of Mitchell, click here.
Area Road Closures:
Due to replacement of the bridge, 404th Avenue between 248th and 250th will be closed till November/December 2023. Please plan accordingly for Emergency Response. In addition, there is no access from 249th.
Get up to date weather information @ https://www.weather.gov/unr/sdeoc
SEVERE WEATHER: The latest Severe Weather Spotter Training was held at the Mitchell Technical College Amphitheater (Tech Center) on March 28, 2023, at 7:00 PM. If you would like to learn more about severe weather spotting, check out these links:
Severe Weather Spotter Training
Spotter Reference Sheet
Weather Spotters Field Guide
Outdoor Warning Siren locations can be found @ Siren Photos-Descriptions. Information for Mitchell, Ethan, and Mt. Vernon can be found here.
The Davison County Office of Emergency Management works closely with the 911 Dispatch. Outdoor Warning Sirens are NOT intended to be heard indoors. Sirens are NOT activated for Severe Thunderstorms, unless sustained winds are life threatening. Outdoor Warning Sirens will sound ONLY for the following Severe Weather:
1. Tornado Warnings issued by the National Weather Service.
2. Cloud rotation observed by a trained weather spotter.
3. An actual tornado observed by a trained weather spotter.
If the sirens are sounded in your community, the respective emergency shelter will be opened:
Mitchell-Davison County Courthouse.
Mt. Vernon-Downtown Gym on First & Main.
Ethan-Ethan Public School.
On as "as needed" basis, a shelter may be open at other times, such as extended power outages. However, normally in this case one of the Disaster Relief Shelters would be opened. A full list of all shelters can be found at Shelters in Davison County.
Severe Weather Awareness Week for 2023 is April 17-21, with a test tornado drill held on the 19th @ 10:00 AM. The Office of Emergency Management has distributed Winter Storm, Tornado Alert, Rising Water, and Fire Prevention books, narrated by Tommy the Turtle to all 2nd grade classrooms in the county. All books can be found here. If you would like any of these books for your children, daycare, etc. please contact us!
Emergency Management Links & Documents, click here.
Yearly Reports:
Previous Yearly Reports can be found

here.

Major Programs:
Davison County Local Emergency Planning Committee (LEPC), click here. 
James Valley Critical Incident Stress Management (CISM) Team click here.
Davison County Search & Rescue Team (located @ the Highway Shop), click here.
---
Contact Us
Telephone: (605) 995-8615 or (605) 995-8640
Jeff Bathke
email: [email protected]         
Cell: (605) 999-2863
Karen Wegleitner
email: [email protected]
Cell: (605) 299-6059