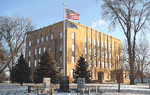 Tonya Meaney, MBA, PHR
Davison County HR Director

Email: [email protected]

Phone: (605) 597-7086
Mailing Address:
200 E 4th Ave
Mitchell, SD 57301

Office Location: Davison County HR Department, In Lower Level
MISSION-The mission of the Davison County HR Department is to enhance all aspects of the employee experience within the constraints of being a public employer.
VISION-HR's vision is to create and maintain Davison County as the employer of choice.
GOALS:
Valuing, engaging, and supporting the Davison County workforce, elected officials, Dept Heads, and Commissioners.
Enhancing experiences, effectiveness, and efficiency through innovation.
Celebrating strong relationships between all levels in county government with emphasis on integrity, honesty, and trust.
Implementing and enforcing equitable treatment of all.
VALUES:
Act with compassion for our people, showing kindness, caring, and a passion for helping employees, Dept Heads, and Commissioners.
Strive for excellence in performance and continuous improvement embracing change using innovation and technology, while seeking opportunities for making a difference.
Develop relationships with and between County employees utilizing teamwork, communication, dedication, and appreciation.
Lead by example and advocate fair and equitable treatment in our behaviors, policies, and practices.
DUTIES:
I worked in the Auditor's office for 10 years prior to accepting the newly created position of Human Resources Director.  My duties are onboarding and offboarding employees, recruitment, payroll, benefits, workers' comp, safety coordination, union negotiations, and many more. I also assist department heads with coaching, training, and any other personnel issues.
EDUCATION:
Certified by HRCI with PHR (Professional in Human Resources) 2022
MBA from USD 1993
BS in Business Management from USD 1992
HS Graduate from Bennett County 1988
LINKS:
HR Notes (unofficial news for employees)
Phone: (605) 597-7086
Davison County HR Dept
200 E 4th Ave
Mitchell, SD 57301