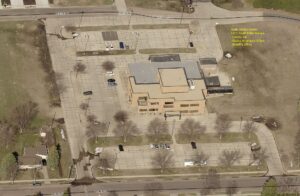 DAVISON COUNTY PUBLIC SAFETY CENTER
1015 S. MILLER AVENUE
MITCHELL, SD 57301
Jail

Grant Lanning

Email: [email protected]
Phone: (605) 995-8639
Fax: (605) 995-8652

Mailing Address:
1015 S. MILLER AVENUE
MITCHELL, SD 57301
Mitchell, SD 57301
Administrator: Grant Lanning, Corrections/Jail Administrator
Office: (605) 995-8639
Office Location: Davison County Public Safety Center
Email:

[email protected]

Fax: (605) 995-8652
INMATE ACCOUNTS
You have the ability to deposit money into an inmate's account on-line, by clicking on http://www.smartdeposit.com or calling 1-866-394-0490.
VISITATION
The jail encourages inmates to maintain contact with family and friends through regular visits. Visits will be allowed in accordance with the jail rules and regulations.
Photo Identification Required from all visitors.
All visits may be 30 minutes in length.
Inmates may receive one visit per day during the scheduled visiting hours, depending on time available.
No more then two visitors in the booth at one time.
Visits may be shortened to allow the most visits possible.
Not ending visit when time is up will result in loss of visitation privilege.
All special visits will be arranged with the supervisory staff and will be in writing.
Small children must be accompanied by an adult and behave at all times.
No visitors under the age of 18 years unless a member of the inmate's immediate family.
All visitors under the age of 16 must be accompanied by a parent or guardian.
Obscene or disorderly behavior will not be allowed.
Visitors who have been drinking or appear under the influence of drugs may not visit.
NO PROPERTY IN VISITATION.
No food or drink allowed in the visitation room.
Only allowed property may be dropped off at visitation desk. A list of allowed property is available from the visitation officer.
No note passing will be allowed.
Any "no contact" condition required by state law, bond condition, court order, probation or parole officer and jail staff will be enforced. No visitation will be allowed.
A violation of any of these rules may result in the loss of your visitation privilege.
After hours visits may be arranged by the Shift Supervisor or the Jail Administrator. These visits will only be allowed if staff workload allows. Your attorney will arrange attorney visits as necessary.
VISITATION HOURS:
Monday: NONE
Tuesday: 7:00 PM to 9:00 PM
Wednesday: 1:00 PM to 3:00 PM
Thursday: NONE
Friday: NONE
Saturday: 1:00 PM to 3:00 PM
Sunday: 1:00 PM to 3:00 PM
INMATE TELEPHONE PROCEDURE
The inmates of the Davison County Jail have access to a telephone from 6:30 AM to 10:30 PM each day.
The calls are "Collect" style to the person the inmate is calling. You do have the choice of not accepting the call. You can also Block your telephone number from receiving calls from the jail. To choose either of these options follow the recorded message when you answer your call from the jail.
Messages for inmates can be left at 605-995-8639 and will be delivered to the inmates during normal rounds. If you have a "Collect Call" block placed on your telephone the inmate can purchase a calling card from the Jail Commissary. You will still have the option to accept or not accept the call. Cards are sold in increments of $5.00.
JAIL & 24/7 PROGRAM CONTACT INFORMATION
Contact Davison County Jail
Davison County Sheriff's Office
1015 S. Miller Avenue
Mitchell, SD 57301
Phone: (605) 995-8639