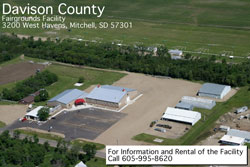 The Davison County Fairgrounds Complex is located at 3200 West Havens, Mitchell, South Dakota. The facility plays host to agricultural related, youth, and numerous 4-H activities. The facility is also available for meetings, sporting events, shows, exhibits, auctions, rummages, flea markets, wedding receptions and family reunions.
Scheduling
Scheduling of the facility by any and all parties including County Staff will be done through the Davison County Fairgrounds Office.
Scheduling dates & times will be done on a first come, first serve basis.
Four hour blocks will run from 8:00 AM-12 Noon, 1:00-5:00 PM, and 6:00-10:00 PM.
All Day blocking will run from 8:00 AM until midnight.
Contact the Fairgrounds Office: Monday- Friday, 8:00 AM – 5:00 PM
Email: [email protected]
Phone: 605-995-8611
Fax: 605-995-8618
Scheduling Fee
25% of the rent for the desired date and time will be due upon scheduling of the date.
No scheduling will be done until this fee is received.
This fee will guarantee the date and time requested.
This is a non-refundable charge if the event is cancelled after scheduled.
Rent
Balance of the rent (75%) will be due at time of key pickup.
The rent may be dropped off or mailed to:
Mailing Address:
Davison County Courthouse Auditors Office
200 E 4th Ave.
Mitchell, SD 57301
Refundable Damage Deposit
A damage and cleaning deposit of $250.00 will be due at the time of key pickup. This amount
should be in the form of a separate check, which will be reimbursed after the event.
• The damage and cleaning deposit may, if warranted by the condition of the premises, be returned
by mail no fewer than 15 working days after the event
• Damage and cleaning costs in excess of the damage and cleaning deposit will be collected by
Davison County through any legal means deemed necessary.
---

Contact Us
Davison County Courthouse Auditors Office
200 E 4th Ave.
Mitchell, South Dakota 57301