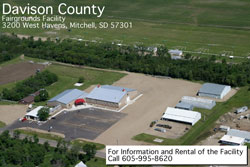 The Davison County Fairgrounds Complex is located at 3200 West Havens, Mitchell, South Dakota. The facility plays host to agricultural related, youth, and numerous 4-H activities. The facility is also available for meetings, sporting events, shows, exhibits, auctions, rummages, flea markets, wedding receptions and family reunions.
Davison County Meeting Hall & Fairgrounds Rates
* NOTE: Requests will not be processed until Scheduling Fees are received!
FEES

Day

Half
Day

Full
Day

Classroom A

$85

$125

Classroom B

$55

$80

Kitchen

$50

$75

V-Tel

$50

$75

$150

One Side of Activity Center

$70

$100

Entire Activity Center

$115

$200

Entire Facility

$250

$500

Batting Cages

$25 / HR up to 3 hours.
* South Side ActivityCenter Rates apply beyond 3 hours. 

Additional Charges

Tables & Chairs Setup/Tear Down

Clean up of rooms rented including lobby (if not performed by renter)
$100.00
per space, per event
Use of tables and chairs are included in the rental price.
Wireless Internet Available
Additional Charges
A deposit of $200.00 will be due at the time of key pickup. This amount should be in the form of a separate check, which will be held until after the event.
Deposit checks will be returned by mail no more than 15 working days after the event conditional on satisfactory inspection of the facility.
Davison County will assess damage over and above the deposit amount if necessary through the State's Attorney Office.
Livestock Related Rates
Activity Center Arena Charge: …………………………………$100.00 (Use of Arena Pens and Mats)
Note: Renter is responsible for Set-up, Tear-down and Clean-up of arena, pens and mats. The floor must also be cleaned and ready for the next event.
---

Contact Us
Davison County Fairgrounds
3200 West Havens
Mitchell, South Dakota 57301