Welcome to Davison County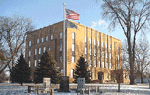 Davison County was established by the 1873 territorial legislature, although with different boundaries than as presently established. The present area of Davison and Hanson Counties were divided by a line running east and west, with Davison County north of the line and Hanson County south of the line. However, in 1874 the legislature reorganized the counties and divided this area by means of a north south line.
NOTICE OF LEASE OF PROPERTY
BY AUCTION
Notice is hereby given that the following property will be auctioned for lease. The auction will be conducted during the regular meeting of the Davison County Board of Commissioners in the Commission Chambers located at the North Offices, 1420 North Main St., Mitchell, SD at 9:15 a.m., February 7, 2023. The land is described as follows NE ¼ of Section 33 T 104 N R61 W of the 5th P.M., Badger Township, Davison County, South Dakota.
This is pasture land that includes a well run by a solar panel.
The lease will run from March 1, 2023 through December 31, 2024.
For further information and description of land contact the Davison County Auditor by calling 605-995-8608.
The Davison County Board of Commissioners reserves the right to reject any or all bids.
Quick Facts About Davison County
County Seat: Mitchell
Davison County Population: 19,956
Economy base: Agriculture, Tourism & Industry