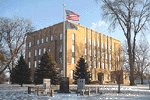 Davison County Commission
200 East Fourth Ave.
Mitchell, SD 57301
Phone: (605) 995-8608
Fax: (605) 995-8618
---
MRC mtg notice Dec 2017 for auditors corrected version
To Schedule an Appearance before the Board of Commission, please contact the Auditor's office at the above contact information as given.
Current Commission Agenda
The following is the agenda for the Commissioner meeting to be held on Tuesday, April 24, 2018 in the Davison County Commissioner's Room in the North Offices Building, 1420 North Main Street. Special accommodations for handicapped persons may be made by contacting the Davison County Auditor's Office at 995-8608.
9:00 A.M. Call to Order

Pledge of Allegiance

Approve Minutes

Citizens Input and Board Reports

Informational Only

9:15 A.M. Board of Equalization

9:45 A.M. Quarterly Nurse Report and Probationary Wage Increase

10:00 A.M. Veterans Service Officer Bennett

10:15 A.M. Corrections Administrator Radel

Re: Reliance Phone Presentation

10:30 A.M. Miscellaneous Motions Brought to the Board

Approve Bills/Approve Timesheets

         6:00 P.M. Consolidated Board of Equalization
PREVIOUS AGENDAS
Mar-6-2018 no meeting
Feb-20-2018 no meeting
Feb-6-2018 no meeting
Jan-16-2018 no meeting
Dec-26-2017 no meeting
Dec-12-2017 no meeting
Minutes of Davison County Commission Board Meetings
March-6-2018 no meeting
February-20-2018 no meeting
February-6-2018 no meeting
January-16-2018 no meeting
December-26-2017 no meeting
December-12-2017 no meeting
Contact Us

Davison County
200 East Fourth Ave.
Mitchell, SD 57301
Telephone: (605) 995-8608
Fax: (605) 995-8618