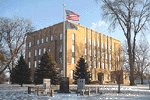 Davison County Commission
200 E 4th Ave
Mitchell, SD 57301
Phone: (605) 995-8608
Fax: (605) 995-8618
---
To Schedule an Appearance before the Board of Commission, please contact the Auditor's office at the above contact information as given.
Current Commission Agenda

Zoning Ordinance-Proposed Changes-6-1-21
Zoning Ordinance-Proposed Revision-1 June 2021
Cannabis Regulation Permit License Ordinance 06-08-21-DRAFT for 2nd Reading
2022 Davison County Redistricting Ordinance
Commissioners:
The following is the agenda for the Commissioner meeting to be held on Tuesday, November 29, 2022, in the Davison County Commissioner's Room in the North Offices Building, 1420 North Main Street. Special accommodations for handicapped persons may be made by contacting the Davison County Auditor's Office at 995-8608.
No Meeting Scheduled
Susan Kiepke
Davison County Auditor
Previous Agendas
Nov-29-2022 no meeting
Nov-15-2022 no meeting
Nov-1-2022 no meeting
Sept-13-2022 no meeting
Aug-16-2022 no meeting
July-5-2022 no meeting
May-31-2022 no meeting
May-17-2022 no meeting
May-3-2022 no meeting
Mar-15-2022 no meeting
Jan-25-2022 no meeting
Dec-7-2021 no meeting
Nov-23-2021 no meeting
Oct-19-2021 no meeting
Sep-14-2021 no meeting
Aug-24-2021 no meeting
June-29-2021 no meeting
Apr-20-2021 no meeting
Minutes of Davison County Commission Board Meetings
September-13-2022 no meeting
July-5-2022 no meeting
May-31-2022 no meeting
May-17-2022 no meeting
May-3-2022 no meeting
March-15-2022 no meeting
December-7-2021 no meeting
September-14-2021 no meeting
August-24-2021 no meeting
Jun-29-2021 no meeting
Jun-15-2021 no meeting
Apr-20-2021 no meeting
Mar-23-2021 no meeting
Mar-9-2021 no meeting
Feb-16-2021 no meeting
Contact Us

Davison County
200 E 4th Ave
Mitchell, SD 57301
Telephone: (605) 995-8608
Fax: (605) 995-8618