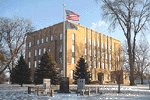 Davison County Commission
200 E 4th Ave
Mitchell, SD 57301
Phone: (605) 995-8608
Fax: (605) 995-8618
---
To Schedule an Appearance before the Board of Commission, please contact the Auditor's office at the above contact information as given.
Current Commission Agenda
The following is the agenda for the Commissioner meeting to be held on Tuesday, April 7, 2020, telephonically. If you have any questions, please call the Davison County Auditor's office at 995-8608.
No Commissioner Meeting
7:00 P.M. Planning/Zoning Meeting
The call in numbers are: 990-6338 or Toll Free 866-990-6338
Conference ID: 12705
Previous Agendas
March-17-2020 no meeting
March-3-2020 no meeting
February-4-2020 no meeting
January-7-2020 no meeting
December-24-2019 no meeting
Minutes of Davison County Commission Board Meetings
March-3-2020 no meeting
February-4-2020 no meeting
January-7-2020 no meeting
December-24-2019 no meeting
Contact Us

Davison County
200 E 4th Ave
Mitchell, SD 57301
Telephone: (605) 995-8608
Fax: (605) 995-8618