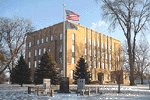 Davison County Planning and Zoning
200 East Fourth Ave.
Mitchell, SD 57301
Planning and Zoning Administration
Jeff Bathke, Administrator
Mark Jenniges, Deputy Administrator
Telephone: (605) 995-8615 or (605) 995-8640
Fax: (605) 995-8642
Email: Planning and Zoning Contact
---
Current Agenda and Links:

​

​

​

​

​
PLANNING COMMISSION AGENDA
January 7, 2020 Meeting
@ 1:15 P.M.
Call to order at 1:15 P.M. by PZ Administrator Bathke.
Roll Call.
Election of 2020 Planning Commission Officers & turn the meeting over to the Chairperson.
Consider the agenda.
Declare conflicts of interest.
Consider the December 3, 2019 Minutes.
Public input for items not on the agenda.
Consider a plat of Tract 1 of Dikoff Subdivision in the North 1/2 of the Northeast 1/4 of Section 16, T 103 N, R 61 W of the 5th P.M., Davison County, South Dakota; requested by Todd Dikoff.
Additional Comments from the Group.
Set date and time for next meeting – February 4, 2020 @ 1:15 P.M.
Adjournment.
Comprehensive Plan Meeting:  Davison County Fairgrounds-November 12, 2019 @ 6:00 P.M Davison Meeting Flyer
Other Information:
NOTE: The Planning Commission will meet @ 1:15 P.M. December-March and at 7:00 PM April-November. 
To review the most current Davison County TID Guidelines, click on

Davison County TID Guidelines

.

---
Planning Commission & Board of Adjustment Public Notices
January 2020 Public Notices-None
December 2019 Public Notices
November 2019 Public Notices
October 2019 Public Notices
September 2019 Public Notices
August 2019 Public Notices-No Meeting
July 2019 Public Notices-None
June 2019 Public Notices
May 2019 Public Notice
April 2019 Public Notice
March 2019 Public Notices
February 2019 Public Notices-None
January 2019 Public Notices

Past Planning Commission Minutes
Planning Commission Unsigned Minutes 1-7-20
Planning Commission Signed Minutes 12-3-19
Planning Commission Signed Minutes 11-5-19
Planning Commission Signed Minutes 10-1-19
Planning Commission Signed Minutes 9-3-19
Planning Commission 8-6-19-NO MEETING
Planning Commission Signed Minutes 7-2-19
Planning Commission Signed Minutes 6-4-19
Planning Commission Signed Minutes 5-7-19
Planning Commission Signed Minutes 4-2-19
Planning Commission Signed Minutes 3-5-19
Planning Commission Signed Minutes 2-5-19
Planning Commission Signed Minutes 1-8-19
Planning Commission Signed Minutes 12-4-18
Planning Commission Signed Minutes 11-6-18
Planning Commission 10-2-18-NO MEETING
Planning Commission Signed Minutes 9-4-18
Planning Commission Signed Minutes 8-7-18
Planning Commission Signed Minutes 7-10-18
Planning Commission Signed Minutes 6-5-18
Planning Commission Signed Minutes-5-1-2018
Planning Commission Signed Minutes 4-3-18
Planning Commission Signed Minutes 3-6-18
Citizens Responsible for Development Packet
Planning Commission Signed Minutes 2-6-18
Planning Commission Signed Minutes 1-2-18
Planning Commission Minutes 2017
Planning Commission Minutes 2016
Planning Commission Minutes 2015
Planning Commission Minutes 2014
Planning Commission Minutes 2013
Planning Commission Minutes 2012
Planning Commission Minutes 2011
Planning Commission Minutes 2010
Board of Adjustment Packet/Minutes

Board of Adjustment Packet 1-14-20
Board of Adjustment Unsigned Minutes 12-10-19
Board of Adjustment Signed Minutes 11-12-19
Board of Adjustment Signed Minutes 10-15-19
Board of Adjustment Signed Minutes 9-24-19
Board of Adjustment 8-13-19-NO MEETING
Board of Adjustment Signed Minutes 6-25-19
Board of Adjustment Signed Minutes 6-11-19
Board of Adjustment Signed Minutes 5-14-19
Board of Adjustment Signed Minutes 4-16-19
Board of Adjustment Signed Minutes 4-9-19
Board of Adjustment Signed Minutes 3-19-2019
Board of Adjustment Signed Minutes 3-12-19
Board of Adjustment Signed Minutes 2-12-19
Board of Adjustment Unsigned Minutes 1-15-19
Board of Adjustment 12-11-18 No Meeting
Board of Adjustment Signed Minutes 12-4-18
Board of Adjustment Signed Minutes 11-13-18
Board of Adjustment 10-9-18 No Meeting
Board of Adjustment Signed Minutes 9-25-18
Board of Adjustment Signed Minutes 9-18-18
Board of Adjustment Signed Minutes 8-14-18
Board of Adjustment Signed Minutes 7-17-18
Board of Adjustment Signed Minutes 6-12-18
Board of Adjustment Signed Minutes 5-8-18
Board of Adjustment Signed Minutes 4-10-18
Board of Adjustment Signed Minutes 3-13-18
Board of Adjustment Signed Minutes 2-13-18
Board of Adjustment Signed Minutes 1-9-18

Board of Adjustment Minutes 2017
Board of Adjustment Minutes 2016
Board of Adjustment Minutes 2015
Board of Adjustment Minutes 2014
Board of Adjustment Minutes 2013
---
---
Contact Us

Davison County
200 East Fourth Ave.
Mitchell, SD 57301
Phone: (605) 995-8615 or (605) 995-8640
Fax: (605) 995-8642
Email: Planning and Zoning Contact