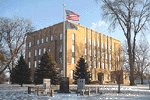 Davison County Drainage
200 East Fourth Ave.
Mitchell, SD 57301
---
Drainage Administration
Jeff Bathke, Administrator
Mark Jenniges, Deputy Administrator
Telephone: (605) 995-8615 or (605) 995-8640
Fax: (605) 995-8642
Email: Planning and Zoning Contact




---
Current Drainage Agenda

January 17, 2017
Call to order by the Auditor at 7:00 P.M.
Roll Call
Appoint Board Members Larson, Edinger and Buchholz to a new 3 year term.
Oath of Office-All Board Members.
Accept nominations for Chairperson.
Accept nominations for Vice-Chairperson.
Approve the agenda.
Approve the minutes from the December 6, 2016 meeting.
Public comment and citizen complaints.
Pending Applications.
Miscellaneous items.
Set time and date for the next drainage meeting – February 21, 2017 @ 7:00 P.M.
Adjournment.
Pending Applications & Supporting Documents:

Past Minutes & Documents:
Drainage Board Unsigned Minutes-12-6-2016
Drainage Board Signed Minutes-10-18-2016
Drainage Board Signed Minutes-9-20-16
Drainage Board Signed Minutes-8-9-16
No July Meeting 7-19-2016
No June Meeting 6-21-2016
No May Meeting 5-17-2016
No April Meeting 4-19-2016
No March Meeting 3-15-2016
No February Meeting 2-16-2016
No January Meeting 1-19-2016
No December Meeting 12-15-2015
No November Meeting 11-17-2015
No October Meeting 10-20-15
No September Meeting 9-15-15
No August Meeting 8-18-15
No July Meeting 7-21-15
No June Meeting 6-16-15
Drainage Board Signed Minutes-5-19-15
No April Meeting 4-23-15
Drainage Board Signed Minutes-3-24-15
No February Meeting 2-17-15
No January Meeting 1-20-15
No December Meeting 12-16-14
No November Meeting 11-18-14
Drainage Board Signed Minutes 10-29-14
No September Meeting 9-23-14
No August Meeting 8-19-14
Drainage Board Signed Minutes 7-15-14
No June Meeting 6-17-14
Drainage Board Signed Minutes 5-20-14
Drainage Board Signed Minutes 4-14-14
No March Meeting 3-17-14
Drainage Board Signed Minutes 2-19-14
Board Decision Letter to Glen Lowrie 2-19-14
No January Meeting 1-15-14
Drainage Board Minutes 2013
Drainage Board Minutes 2012
Drainage Board Minutes 2011
A New Drainage Ordinance was approved by the County Commissioners on August 27, 2013 with an effective date of September 24, 2013. Access the Ordinance, application, and a handy flow chart below:
Davison County Drainage Ordinance
Drainage Permit Application (Appendix A&B)
---
---

Contact Us

Davison County
200 East Fourth Ave.
Mitchell, SD 57301
Phone: (605) 995-8615 or (605) 995-8640
Fax: (605) 995-8642
Email: Planning and Zoning Contact