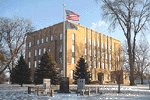 Davison County Drainage
200 East Fourth Ave.
Mitchell, SD 57301
---
Drainage Administration
Jeff Bathke, Administrator
Mark Jenniges, Deputy Administrator
Telephone: (605) 995-8615 or (605) 995-8640
Fax: (605) 995-8642
Email: Planning and Zoning Contact
---
Current Drainage Agenda
May 22, 2018
1. Call to order by Chairman Larson at 7:00 P.M.
2. Roll Call
3. Approve the agenda.
4. Approve the minutes from the March 20, 2018 meeting.
5. Public comment and citizen complaints.
6.  Don Blindauer, renter of land owned by Kenneth & Londa Moro, has made an application for a drainage permit. The location of the drainage project is: The SE 1/4 of Section 6, Perry Township, T 104 N, R 60 W of the 5th P.M., Davison County.
The drainage project will be buried drain tile on the north and south side of the trees; which will drain water to the outlet in the right of way on 245th, which will then run west to the creek, which is a three dot blue line in the SW ¼ of Section 6, Perry Township, Davison County.
7. Miscellaneous items.
8. Set time and date for the next drainage meeting – April 17, 2018 @ 7:00 P.M.
9. Adjournment.
Pending Applications & Supporting Documents: 
Past Minutes & Documents:
Drainage Board Signed Minutes 3-20-18
Drainage Board Unsigned Minutes-11-21-2017
Drainage Board Signed Minutes-8-15-2017
Drainage Board Signed Minutes-12-6-2016
Drainage Board Signed Minutes-10-18-2016
Drainage Board Signed Minutes-9-20-16
Drainage Board Signed Minutes-8-9-16
No July Meeting 7-19-2016
No June Meeting 6-21-2016
No May Meeting 5-17-2016
No April Meeting 4-19-2016
No March Meeting 3-15-2016
No February Meeting 2-16-2016
No January Meeting 1-19-2016
No December Meeting 12-15-2015
No November Meeting 11-17-2015
No October Meeting 10-20-15
No September Meeting 9-15-15
No August Meeting 8-18-15
No July Meeting 7-21-15
No June Meeting 6-16-15 
Drainage Board Signed Minutes-5-19-15
No April Meeting 4-23-15
Drainage Board Signed Minutes-3-24-15
No February Meeting 2-17-15
No January Meeting 1-20-15
No December Meeting 12-16-14
No November Meeting 11-18-14
Drainage Board Signed Minutes 10-29-14
No September Meeting 9-23-14
No August Meeting 8-19-14
Drainage Board Signed Minutes 7-15-14
No June Meeting 6-17-14
Drainage Board Signed Minutes 5-20-14
Drainage Board Signed Minutes 4-14-14
No March Meeting 3-17-14
Drainage Board Signed Minutes 2-19-14
Board Decision Letter to Glen Lowrie 2-19-14
No January Meeting 1-15-14
Drainage Board Minutes 2013
Drainage Board Minutes 2012
Drainage Board Minutes 2011
A New Drainage Ordinance was approved by the County Commissioners on August 27, 2013 with an effective date of September 24, 2013. Access the Ordinance, application, and a handy flow chart below:
Davison County Drainage Ordinance
Drainage Permit Application (Appendix A&B)
---
---

Contact Us
Davison County
200 East Fourth Ave.
Mitchell, SD 57301
Phone:  (605) 995-8615 or (605) 995-8640
Fax:  (605) 995-8642
Email: Planning and Zoning Contact