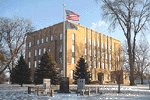 Welcome! The Register of Deeds is a county based office who works with several government entities to bring services to the public on a local level.
This office is a storage facility for a host of local documents from land title transfers to birth, death and marriage records. This office has a wealth of information.
WARNING NOTICE:  A notice entitled " RECORDED DEED NOTICE" has recently been sent out by a private company and is not being sent to you by your local Register of Deeds. This Notice is a SOLICITATION and nothing you are required to do. If you want to obtain a copy of your deed, this can be provided to you for a few dollars by stopping by this office and giving us your name and legal description.
Register of Deeds

Debra Young

Email: registerofdeeds@davisoncounty.org

Phone: (605) 995-8616
Fax: (605) 995-8648

Elected in 1994

Mailing Address:
Davison County, Register of Deeds
Debra Young
200 East 4th Ave.
Mitchell, SD 57301

Office Hours:  8:00 a.m. to 5:00 p.m.
Monday-Friday
Primary Functions of the Davison County Register of Deeds:
County Real Estate Record Filings
Vital Records Department (Obtain certified copies of Birth, Death and Marriage Records)
Military Discharge Filings
Lien Filings
Business Name Filings
Uniform Commercial Code Filings (Fixture Filings attached to Real Estate)
Other Helpful Links:
---
Contact Us

Davison County, Register of Deeds
Debra Young
200 East 4th Ave.
Mitchell, SD 57301
Phone: 605-995-8616
Fax: 605-995-8648
Email: ROD2@davisoncounty.org