ALERTS
Attention Farmers: If you have land that has been flooded for 3 consecutive growing seasons, you may be eligible for a valuation adjustment. Contact DOE
Davison County Residents: If you have incurred property damage due to the recent flooding and will NOT have the property repaired or replaced by November 1st, contact the DOE as you may qualify for a valuation adjustment.
New Assessing method with Covid 19 (Corona Virus) Issue <PDF>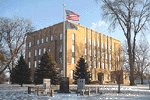 Greetings!  The Department of Equalization is responsible for applying the proper classification to property as well as calculating the full and true valuation of all property (structures and land) within Davison County for advalorem purposes.
All property cards are maintained within this office and are available for the public to view. The office has four (4) State of South Dakota Certified Assessor Appraisers who routinely visit properties to derive current market valuations.
The administrative personnel are available to assist the public with a variety of functions such as completion of forms for owner occupancy status, applying discretionary credits, renewable resource credits, mapping, reappraisal letters and scheduling of all appointments.
Property Information may be found PROPERTY INFORMATION.
 What Assessors Do
Assessor Facts and Frequently asked questions
Assessor FAQ <PDF>
Equalization Office

Kathy Goetsch

Email: kathyg@davisoncounty.org
Phone: (605) 995-8613
Fax: (605) 995-8614

Mailing Address:
DAVISON COUNTY COURTHOUSE
200 E 4th AVENUE
MITCHELL, SD 57301​
Administrator: Kathy Goetsch, Director of Equalization
Office: (605) 995-8613
Office Location: Davison County Courthouse, Basement

Email

: kathyg@davisoncounty.org
Fax: (605) 995-8614
Assessor: Blake Biggerstaff
Assessor: Jon Horton
Assessor: Carla Wittstruck
Administrative Assistant: Karla Love
Office: (605) 995-8613
Email:

 

karlal@davisoncounty.org
Fax: (605) 995-8614
Administrative Assistant:
Office: (605) 995-8613
Email: 
Fax: (605) 995-8614
Career Opportunity
Kathy Goetsch, Director of Equalization
Appointed in 2006
Kathy Goetsch began working for Davison County as a Deputy Auditor in April of 1996, and was appointed to the position of Auditor in December of 1996.
During her ten years in the Auditors Office, Kathy learned the calculations involved in property taxes pertaining to the budget and mill levies. Kathy was responsible for overall balancing and transmittal of all county funds, payroll, inventory, and elections. Kathy has taken a legal assistant/paralegal course and has worked as a Broker Associate Realtor.
In December of 2006 Kathy was appointed to the position of Director of Equalization. She is a Certified Assessor Appraiser and is required to take continuing education under the directive of the South Dakota Department of Revenue and Regulation.
The main objective of the Director of Equalization is to assess all real property in the county. The office goal is to work diligently to establish and maintain a rotating schedule so all property is assessed on a routine basis.
Kathy appreciates the opportunity to work for the taxpayers of Davison County.
The Director of Equalization is appointed by the Board of County Commissioners along with the mayor of any single municipality containing over 50% or more of the population of the county.
The Director and his/her deputies are required to have or to study for and earn a Certified Assessor Appraiser (CAA) designation through the Department of Revenue within one year of appointment. Re-certification is required every 5 years and is accomplished by attending annual school and passing prescribed courses, attending conferences and workshops sponsored by the South Dakota Association of Assessing Offices (SDAAO) and the South Dakota Department of Revenue.
---
Mission Statement
To serve the tax payers of Davison County by providing fair and equitable property tax assessments. The Director of Equalization and his/her staff discovers, lists and values all real property within the county for the property taxation purposes. This includes identifying properties to be appraised, conducting on sight inspections of single & multi-family residential buildings, mobile homes, commercial and industrial properties, and agricultural land and improvements.
Forms
Residents should come to or contact this office to:
Helpful Information
---
Contact Us

Equalization Office
Davison County
200 East Fourth Ave.
Mitchell, SD 57301
Phone: 605-995-8613
Fax: 605-995-8614
Email: kathyg@davisoncounty.org