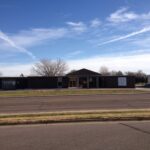 Davison County North Offices (Previous Central Electric Building)
*Please park behind the building, enter the North door, in the back of the main building.*
Veteran's Office

 

Craig Bennett

Email: Craigb@davisoncounty.org

Phone: (605) 995-8619
Fax: (605) 990-2115

Mailing Address:
1420 N. Main St.
Mitchell, SD 57301
Now on Facebook  –   https://www.facebook.com/pages/Davison-County-Veteran-Services/402177323282063
---
Craig Bennett- Veteran's Service Officer
Craig is a native of Colorado Springs, Colorado; who joined the Navy in 1978, serving his first 6 year enlistment as a Boiler Technician. Upon reenlistment, he converted to a Navy Counselor and volunteered for recruiting duty. Craig retired from the Navy as a Senior Chief Navy Counselor in 2001. After retiring, Craig accepted a position with the Federal Health Administration Center, better known as ChampVA. The agency administers benefits to eligible veterans' dependents.
In 2005, Craig and his wife Sue relocated to Mitchell for family reasons, and Craig began working at the Veteran's Administration Regional Office in Sioux Falls. After 9 years, Craig applied for an early retirement and took a job in Mitchell.
Craig's wife, Sue is a 20 year Navy retiree. They are a Navy family as their sons also served in the Navy. They have 5 grandchildren.
Craig has always enjoyed working with veterans and feels it is an honor to serve the area veterans and their families.
Alexander Kraus – Veteran's Service Officer
Alexander Kraus was born in Fairbanks, Alaska, in 2007 Alex joined the Army at the age of 23 as an Infantryman. After serving with 1st Infantry with a combat tour in Afghanistan, Alex then reclassed to work as a Patriot Missile Systems Operator, he deployed with ADA to Kuwait, Qatar, and Korea. After 11 years of active service, Alex left active duty to serve with the Army Reserve, where he is now a Sergeant First Class currently serving as an Observer Controller Trainer.
Alex is married to his wife Sabrina Velin-Kraus; they have 4 children and 2 grandchildren. After Alex left active duty, he moved to Mitchell, SD where Sabrina and the kids had been living during his deployments.
On 08 January 2021 Alex was hired as the Administrative Assistant to the Veteran's Serve Office for Davison County and in Septermber 2021 Alex was promoted to Veteran's Service Officer. He has always enjoyed serving his country and felt it was an honor to now be of service to his fellow veterans and their families.
---
Responsibilities
Assisting VA Hospital Applicants with their Enrollment Forms.
Pension Eligibility Verification Reports for eligible Veterans, Widows and Children.
Requests Pertaining to Missing Military Records.
Assists and Submits G.I. Bill Benefits.
Request for Certificates of Eligibility for VA Home Loan Benefits.
Applications for Headstone or Grave Markers for Eligible Deceased Military Service Members.
Applications for Dependency and Indemnity Compensation.
Submission of appropriate Forms/Records for both Veteran's Pension Claims and Death Pension benefits for Widows and Children.
Assisting Veterans applying for VA Compensation for their Service-Connected Disabilities.
---
DAV Van
Scheduling hours are Monday – Fridady 8am-5pm. Riders must be ambulatory, no wheelchairs. Must give a 3 business day notice for needing a ride. This is ONLY for VA Medical Appointments. Call 605-995-8619.
---
Contact Us
Veteran's Service Office
Davison County North Offices
1420 North Main
Mitchell, SD 57301
Phone: (605) 995-8619
Fax: (605) 990-2115
Email: craigb@davisoncounty.org