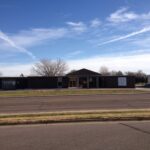 Davison County North Offices (Previous Central Electric Building)
*Please park behind the building, enter the North door, in the back of the main building.*
 REACH ALL VETERANS  (please click here if looking for information on donating to the Veteran's Home)
Veteran's Office

 

Craig Bennett

Email: Craigb@davisoncounty.org

Phone: (605) 995-8619
Fax: (605) 990-2115

Mailing Address:
1420 N. Main St.
Mitchell, SD 57301
| | | |
| --- | --- | --- |
| Administrator: Craig Bennett, VSO | | Office: (605) 995-8619 |
| Office Location: Davison County North Offices | | Cell:    (303) 263-5730 |
| Email: craigb@davisoncounty.org | | Fax:    (605) 995-8612 |
| | | |
Now on Facebook  –   https://www.facebook.com/pages/Davison-County-Veteran-Services/402177323282063
Also on Twitter – https://twitter.com/DavisonCo_VSO
---
Craig Bennett- Veteran's Service Officer
---
Responsibilities
Assisting VA Hospital Applicants with their Enrollment Forms.
Pension Eligibility Verification Reports for eligible Veterans, Widows and Children.
Requests Pertaining to Missing Military Records.
Assists and Submits G.I. Bill Benefits.
Request for Certificates of Eligibility for VA Home Loan Benefits.
Applications for Headstone or Grave Markers for Eligible Deceased Military Service Members.
Applications for Dependency and Indemnity Compensation.
Submission of appropriate Forms/Records for both Veteran's Pension Claims and Death Pension benefits for Widows and Children.
Assisting Veterans applying for VA Compensation for their Service-Connected Disabilities.
---
Contact Us
Veteran's Service Office
Davison County North Offices
1420 North Main
Mitchell, SD 57301
Phone: (605) 995-8619
Fax: (605) 995-8612
Email: craigb@davisoncounty.org