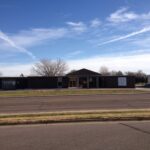 Davison County North Offices (Previous Central Electric Building)
*Please park behind the building, enter the North door, in the back of the main building.*
REACH ALL VETERANS (please click here if looking for information on donating to the Veteran's Home)
Veteran's Office




Jessica Davidson

Email: jessicad@davisoncounty.org

Phone: (605) 995-8619
Fax: (605) 990-2115

Mailing Address:
1420 N. Main St.
Mitchell, SD 57301
| | | |
| --- | --- | --- |
| Administrator: Jessica Davidson | | Office: (605) 995-8619 |
| Office Location: Davison County North Offices | | Cell: (605) 630-3488 |
| Email: jessicad@davisoncounty.org | | Fax: (605) 995-8612 |
| | | |
Now on Facebook – https://www.facebook.com/pages/Davison-County-Veteran-Services/402177323282063
Also on Twitter – https://twitter.com/DavisonCo_VSO
---
Jessica Davidson – Veteran's Service Officer
Jessica enlisted fulltime active duty in the U.S. Army in 1996, with her Military Occupational Specialty being 63H – Track Vehicle Repairer. During her time in active duty, Jessica was sent to Direct Support Plus program where she learned all about and how to rebuild the AGT 1500 Turbine Engine for the M1A1/A2 tank. While serving her duties also included: Assistant Driver's Training Instructor, Hazmat Handler and the Ammunition Manager for her Company. She was honorably discharged from the military at her end of time in service date in 2002. After her time in the military in 2003, Jessica decided to go to school and enrolled at North Hennepin Community College where she graduated in with honors with an Associated Arts degree. Still wanting to further her education, she applied and enrolled at Dakota Wesleyan University (DWU). Jessica graduated from DWU in 2011 with a Bachelor of Arts in Biology.
---
Responsibilities

Assisting VA Hospital Applicants with their Enrollment Forms.
Pension Eligibility Verification Reports for eligible Veterans, Widows and Children.
Requests Pertaining to Missing Military Records.
Assists and Submits G.I. Bill Benefits.
Request for Certificates of Eligibility for VA Home Loan Benefits.
Applications for Headstone or Grave Markers for Eligible Deceased Military Service Members.
Applications for Dependency and Indemnity Compensation.
Submission of appropriate Forms/Records for both Veteran's Pension Claims and Death Pension benefits for Widows and Children.
Assisting Veterans applying for VA Compensation for their Service-Connected Disabilities.
---
Contact Us

Veteran's Service Office
Davison County North Offices
1420 North Main
Mitchell, SD 57301
Phone: (605) 995-8619
Fax: (605) 995-8612
Email: jessicad@davisoncounty.org