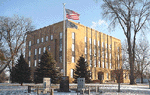 Welcome to Davison County
Davison County was established by the 1873 territorial legislature, although with different boundaries than as presently established. The present area of Davison and Hanson Counties were divided by a line running east and west, with Davison County north of the line and Hanson County south of the line.  However, in 1874 the legislature reorganized the counties and divided this area by means of a north south line
---
https://vip.sdsos.gov/BallotViewer.aspx?docID=405452 is a sample Davison County Ballot.
https://sdsos.gov/elections-voting/upcoming-elections/general-information/2018-GeneralElection-Ballot-Question-Pamphlet.aspx will explain the general election questions.
https://vip.sdsos.gov/VIPLogin.aspx will allow you to enter your name to find your voting location.   
Quick Facts About Davison County
County Seat: Mitchell
Davison County Population: 19,504
Economy base: Agriculture, Tourism & Industry
The Davison County Master Transportation Plan information can be found under the Highway Department. 
Want to learn more about technology in Mitchell? Click on https://www.youtube.com/watch?v=3ywH3WrzBk0